Bob Smith, the Griot, Storyteller/Actor
Bring Them Back Alive
ob Smith is an actor and Storyteller who has performed on stage, television and movies.
Bob has often appeared in Living History productions.
If you want to meet Benjamin Banneker or Paul Laurence Dunbar, Bob will:
Bring Them Back Alive
An accomplished storyteller, Bob Smith, is a member of the griots' Circle of Maryland, the National Association of Black Storytellers, AFTRA and SAG.
Winner of the National Association of Black Storytellers Liars Contest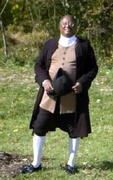 Bob Smith as Benjamin Banneker
Bob Smith is a professional Actor and Storyteller who has has worked in the Mid-Atlantic Region since the seventies.
Bob Smith appeared in the UNISUN section of the Sunday Sun in a feature about storytelling. The Griots' Circle monthly meeting starts at 12:30 PM at the Walbrook Branch of the Enoch Pratt Free Library, North Ave and Bloomingdale, Saturday March 5, 2016. The next National Association of Black Storytellers Festival and Conference will be held in the Philadelphia November 2016. Check on www.nabsinc.org for more information.
Look here for additional information.
Behind the Scenes of My Home Page
Links to other sites will appear here.